---
Downtown is filled with beautiful green spaces ready for you to have lunch, read, or convene.
---
STORYBOOK PARK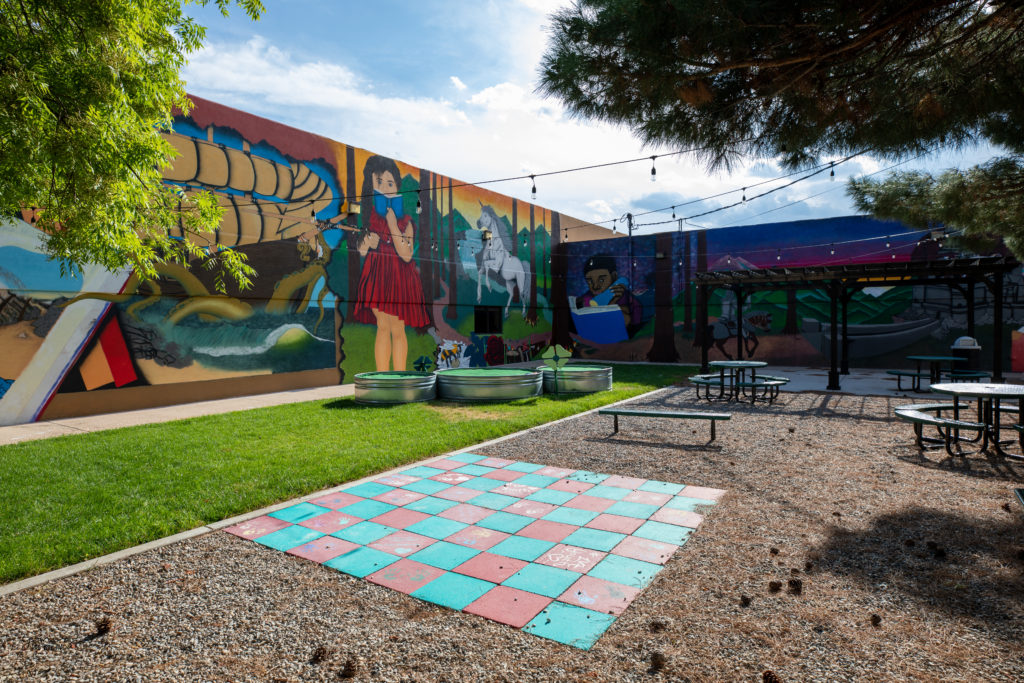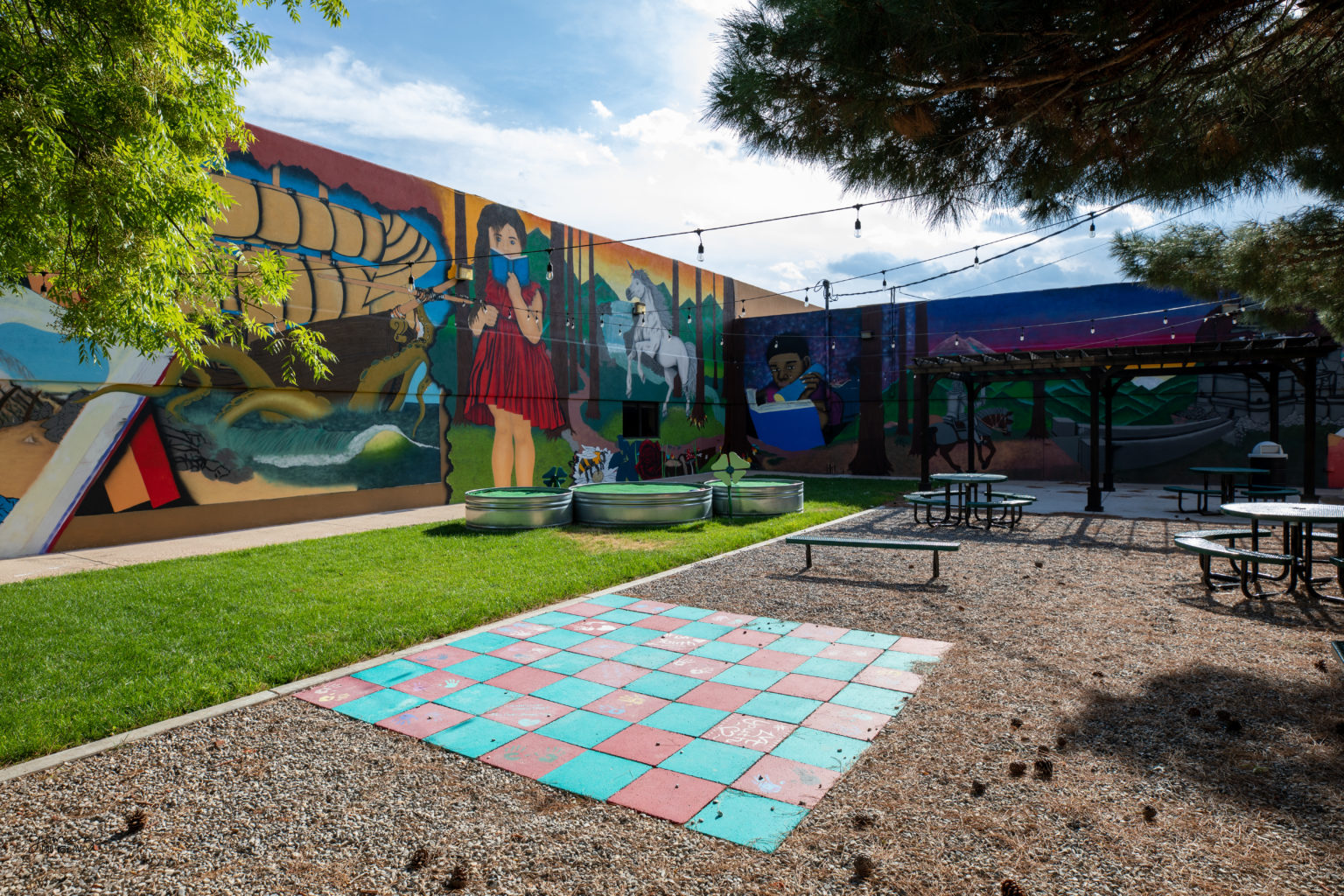 Redeveloped as an outdoor reading area, Storybook Park is located behind the Lovington Public Library. The green space features seating, a pergola, and chess board—you can check out the chess pieces from the Library by using your library card! Our graffiti mural, designed by Dante "Doc" Rios, brings to life our imagination. This is a wonderful space for small family parties, and it can be rented at City Hall. Storybook Park has access to electricity and is lit; however, there is no access to restrooms after hours or on weekends.
FRAN ATCHLEY PLAZA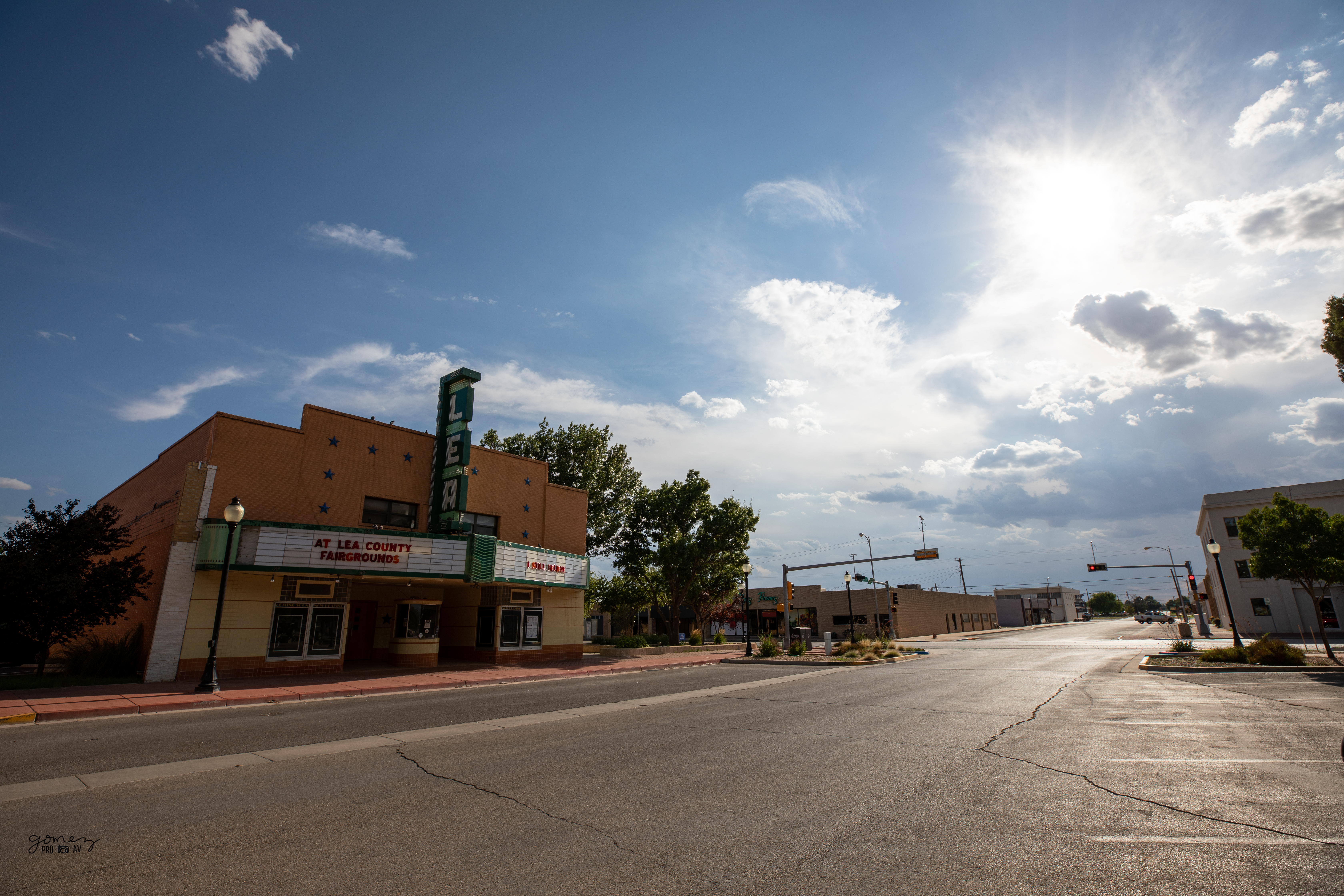 On the corner of Main and Central sits a lovely plaza that commemorates who we are as a community. The city named this plaza after Francis Atchley, keeper of the springs, a long-term volunteer. Atchley helped everyone and actively tried to improve the community, truly a great namesake for one of our beautiful green spaces. This picturesque area has shaded picnic tables and lighting, and we're currently working on a water feature that we hope to unveil later this year!
LEA COUNTY VETERANS MEMORIAL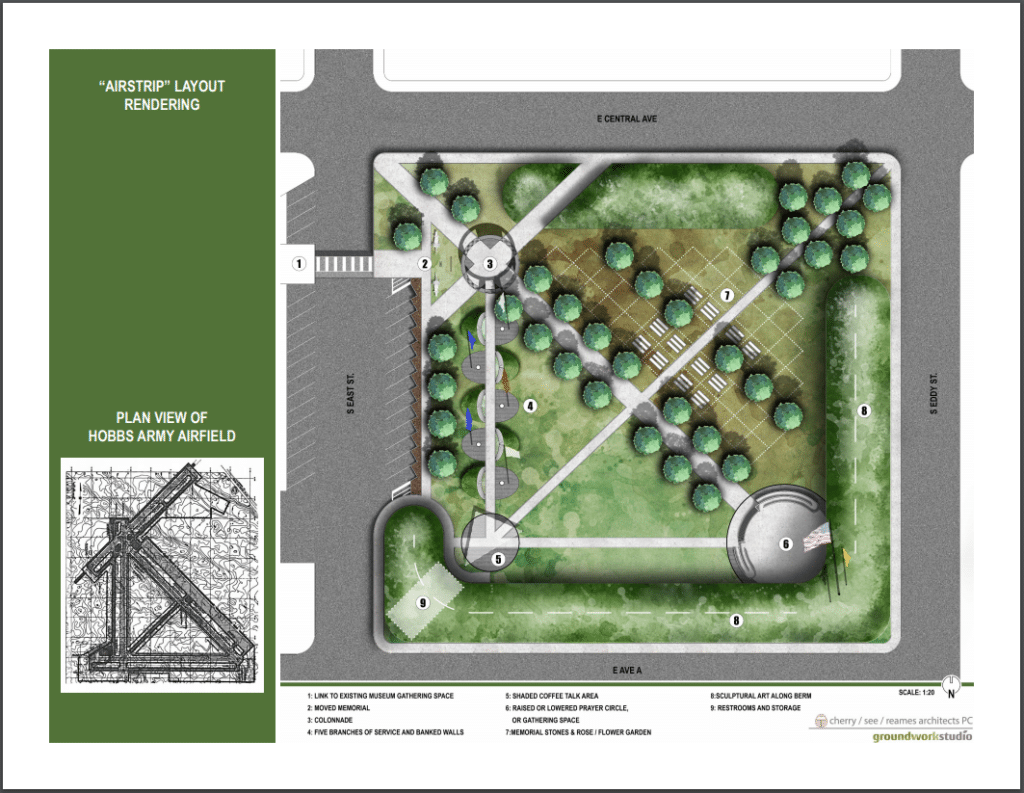 We understand the sacrifices our armed forces must give for our freedom. To honor our local veterans, the City of Lovington and Lea County collaborated to build a Memorial in downtown Lovington. This project is currently being led by the Lea County Veterans Memorial Committee. They have contracted and are currently developing the design. We're proud to house the Lea County Veterans Memorial downtown, where it will sit on the East end of the district, directly beside the Lea County Judicial Complex.
CENTRAL ALLEY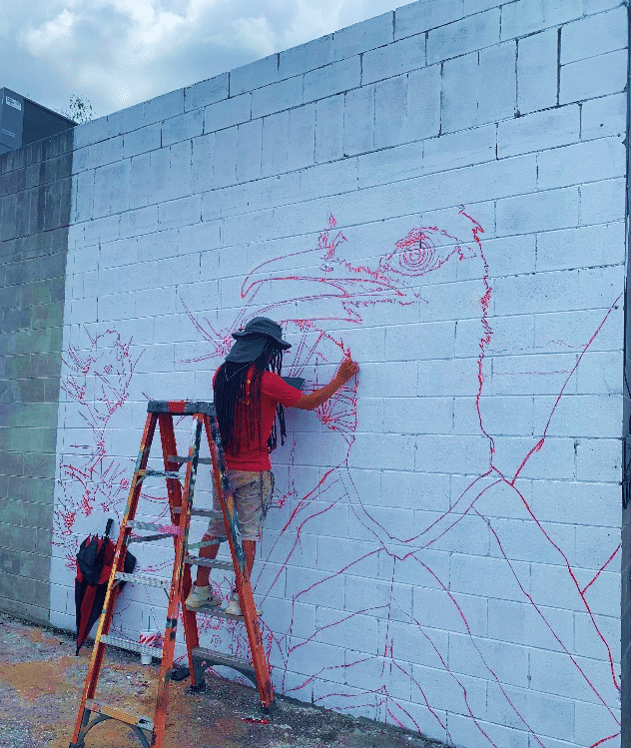 Central Alley will explore Lovington's resiliency and energy. Lovington is the county seat and is a hard-working community. Our goal is to increase community pride and beautify downtown. Central Alley is located behind Cornerstone Coffeehouse and sits between west Central Avenue and west Washington Street and features graffiti murals and is decoratively lit.
Visit Central Alley, behind Cornerstone Coffeehouse.
CENTRAL ALLEY ARTIST SPOTLIGHT
---

ALEYDA ORTIZ
Born and raised in Hobbs, NM, Aleyda could use a pencil before talking and started taking art seriously by the second grade. She started drawing on a small Nintendo DSI and quickly replaced it with sketchbooks and colored pencils. Art has been something that has sparked an extreme curiosity in herself, leading her to make art her whole life! She is currently a Junior at the school of visual arts, studying computer art, computer animation, and visual effects. Aleyda says that even though her major may seem very computer heavy, she holds the fine arts very close to her heart and always strived to create something that has the best of both worlds!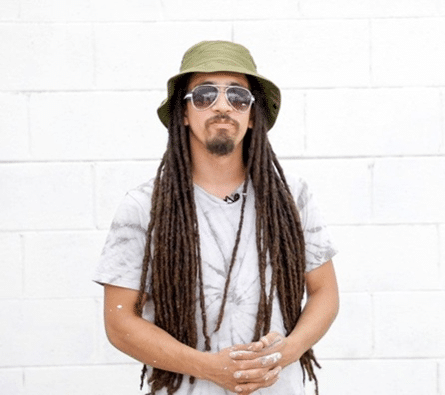 DANTE RIOS
Dante Rios, AKA "Doc," was born in Hobbs, New Mexico, and grew up in Lovington. He has always had a passion for drawing and writing on things, which later transitioned into a love and passion for graffiti art. He graduated from Lovington High School in 2014 with dreams of becoming a professional graffiti artist. He has fulfilled this dream, and has shown his talent in multiple places, including New Mexico, Oklahoma, Texas, California, New York, and Mexico. He now strives to bring knowledge to the youth and others through graffiti culture, history, and artform.

EDGAR PALOMINO
Edgar started painting when he was just a kid, at the age of 16. He started studying art at Cedar David Alfaro Siqueiros in Chihuahua, Mexico, then moved to Lovington 12 years ago. Edgar and his friend Ron Humphrey work together to create sculptures and paint murals. Edgar is interested in art, especially murals; it's a way to inspire people and tell stories. In many cases, people don't have the time or means to visit museums or places to experience art; he believes that painting murals is a way to provide that to our communities!

RIVER INSILAN
River prides himself on being self-taught after realizing his love for the arts. After high school, he drove a truck for a few years and quickly realized that he wanted to live his life. Raised in Lovington, he loves the idea of beautifying his hometown through artistic expressions. Interested in graphic design, painting, comics, and illustration, he constantly grows his art exposure. He doesn't know where this road will take him, but he's happy and opening the community to more art, so River says that is the best he could hope out of life!

ROGER BARR
Creating art all his life, Roger has loved it from the start. He graduated from Wayland Baptist University with a degree in studio art; he's been creating artwork both for himself and for freelance jobs since then. The images he enjoys making the most are epic, in nature, and tell a story. Though Roger has never painted a mural before, it's something in which he is highly interested. Hobbs, NM, is Roger's hometown, and to have this opportunity come up in a small town close to his home means a lot to him. Roger looks forward to showing family and friends his art and growing the love of art in our communities. He can't wait to see how it may inspire others!