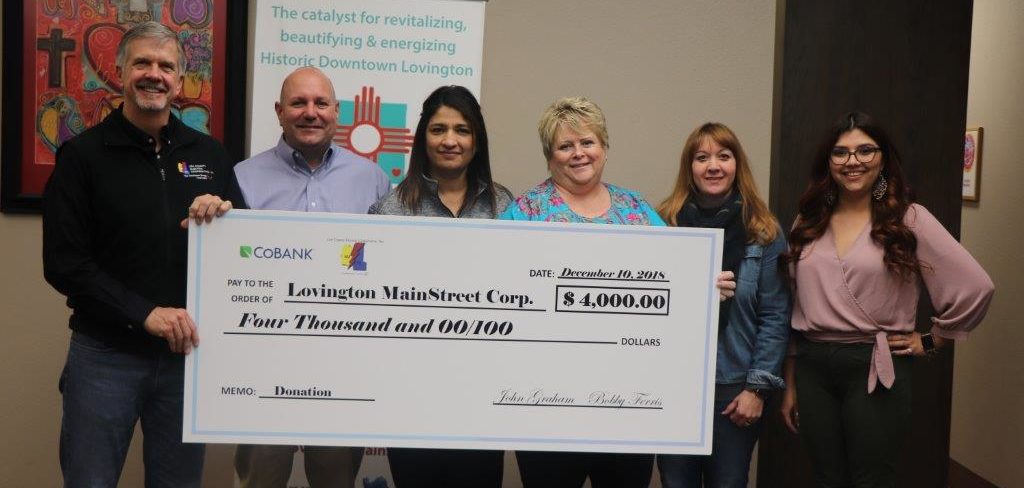 We are thankful to live in a community of such generous, caring people who enable us to carry out our mission of revitalizing Historic Downtown Lovington. In 2018 alone, Lovington MainStreet has welcomed 10 new businesses and 29 new jobs in the MainStreet District. We awarded 8 Façade Improvement Grants, which are matching funds opportunities for building and business owners in Downtown for their store fronts. Nine building rehabs/renovations were completed. We have welcomed several new members to our Board of Directors, Committees and volunteer base this year, and look forward to a prosperous 2019.
If you would like to sponsor a particular event, check out our EVENTS page!
As a supporter of Lovington MainStreet and its programs, you will demonstrate that the revitalization of Historic Downtown Lovington is a priority to you and the community as a whole. We would like to thank you in advance for your support which will enable our organization to continue offering great events and services to the community. This year we have various opportunities for you to help Lovington Mainstreet. You can choose a Community Partner Package, sponsor a particular event, or volunteer your time. Lovington MainStreet is a 501(c)3 charitable nonprofit organization. Contributions are tax-deductible.
Volunteer
Be a part of all the positive changes in our community!
If you are interested in volunteering, please contact us at director@lovingtonmainstreet.org or by calling (575)-396-1418.
Donate
If you would like to donate, simply click the PayPal donation button below.
If you prefer to help by sponsoring a particular event, see the Events page for more info.
Community Partner Program
Want to help Lovington MainStreet? Click the button below to see all the different opportunities available for our Community Partners.