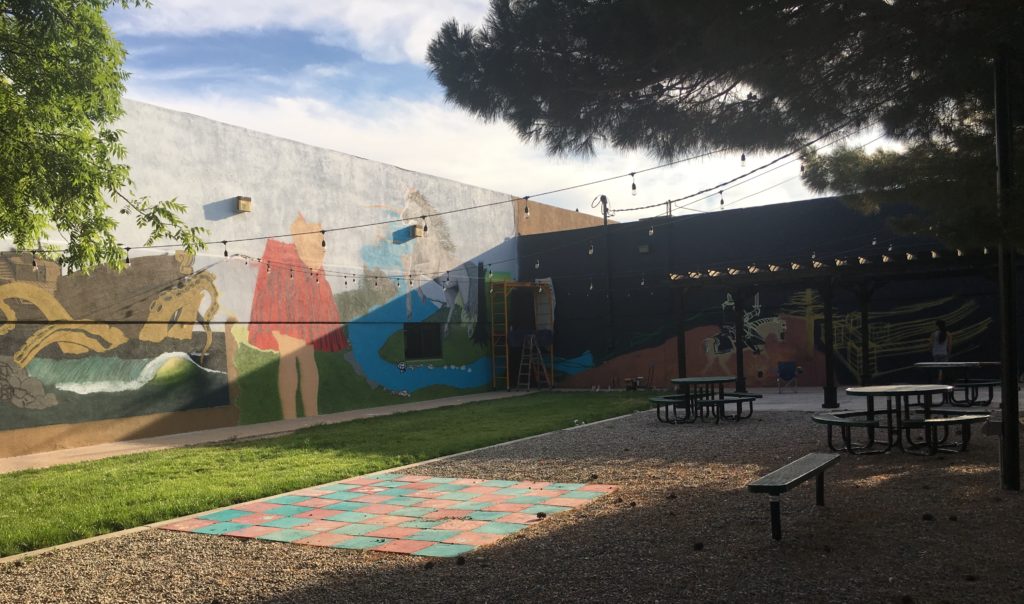 "Love Lovington Green Spaces" was developed with multiple phases to assure a successful implementation. This project consists of rehabbing the Fran Atchley Plaza, creating an outdoor reading area, and a pedestrian safe corridor between the two areas.
Phase 1 – Outdoor Reading Area
Phase 2- Update Fran Atchley Plaza
Phase 3 – Wayfinding
Fran Atchley has always been a beautiful, underappreciated plaza. Phase 2 will bring lighting, a water feature, and a layout redesign.
Lovington MainStreet is currently working with Lea County for Phase 2. Fran Atchley Plaza needs vegetation replacement, updated seating furniture, and most importantly, lighting. While Phase 1 began in 2018 and included converting the Lovington Library employee parking lot into an outdoor reading area, we have received funding for Phase 2 and are in the process of acquiring the funding necessary for Phase 3. As we hope to finalize Love Lovington Green Spaces in 2019, we are requesting assistance for phase 3: Wayfinding.
Lovington MainStreet's vision for beautification is to assure that when citizens enter downtown, they realize they have arrived in a special place. Where downtown gateways welcome them to the area and signs point them to areas of interest. Developing a Wayfinding program with a coordinated set of gateways, directional signage, and kiosks with common colors, materials, and fonts would add a common theme to Downtown Lovington. This would have a significant positive impact on Downtown Lovington and would be the beginning of a branding program. The rebranding of Lovington as the center of the EnergyPlex is a key goal of Lovington MainStreet. By increasing the quality of life, we can attract companies to expand or live in Lovington.